Ethos & Values
Vision Statement
At Westfield Junior School, we will provide high quality education in a safe, respectful and inclusive environment that builds a foundation for life-long learning. We are committed to providing a place of excellence with high standards where children will know how to learn as well as acquire and value the essential skills and knowledge they need to be educated citizens. Our school strives to be at the centre of the local community with positive and effective links to the wider and global communities.
We believe passionately that every child should enjoy their learning and feel safe and supported. We will provide a stimulating curriculum with high-quality learning experiences that will engage, challenge and motivate children. Together, we will continually strive to remove the barriers to success and fear of failure.
Children will be empowered to embrace learning, achieve their full potential in their academic achievement and build their emotional, social and physical well-being. We will value the contribution of each individual and recognise and celebrate successes.
Our vision is to aspire for excellence and to positively impact on our children for the rest of their lives.
Core Values
A Core Value is a principle or belief that the school views as being of central importance. It is understood and shared by every member of the school community. Our 'Super Six' Core Values are: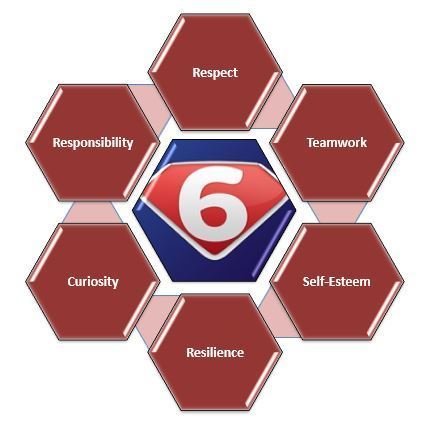 Respect:
we treat others the way we want to be treated
we value all members of the school community
we display good manners at all times
we are honest and tell the truth
we display tolerance of others with different points of view and beliefs
Teamwork:
we allow others to join in and do not limit ourselves to certain people
we work together for a common goal
we are generous, thoughtful and friendly
we listen to others and consider their views
Self-Esteem:
we believe in ourselves and our abilities
we believe that through our actions we can achieve
we think positively and see the bright side
we feel good about ourselves and others
we value the contribution of each individual and recognise and celebrate successes
Resilience:
we do not give up when something is difficult, or we would rather be doing something else
we are able to recover from difficulties
we are able to face challenges, even if they are daunting
we take appropriate risks even if we might fail
we use a variety of strategies and resources to help solve something difficult
Curiosity:
we have a desire to know or learn something
we ask questions to learn more and develop a deeper understanding
we are eager to know and learn from each other
we never stop learning
Responsibility:
we are capable of making rational or moral decisions on our own
we do not rely on others to do things for us
we show that we can learn to do things for ourselves
we are ready to be answerable to others for our behaviour
we can be trusted and depended on
Westfield Road, Hinckley, Leicestershire LE10 0LT
01455 637437
admin@westfield-jun.leics.sch.uk